RIDGWAY ADVANCE
David and Karen Ridgway, with son Devon have tremendous faith in the merino industry and with their vision and passion; believe in the quality of the Ridgway Advance seed stock.
When it comes to Merinos it is a matter of 'striking the correct BALANCE'. The Ridgway Advance genetics will bring this to your flock, with their dual-purpose attributes, capable of adapting in all conditions.
The Studs long-term strategy is to breed towards the mean and not to use extreme variation. With properly planned joining programs and pedigree selection the Ridgway Advance stud has created a Poll Merino that breeds predictable and of an even type. The Advance sheep display great shape, correct structure with impressive meat traits complemented with white, deep-crimped, well-aligned fibre that grows at a rapid rate.


A key component of the Advance Merino is their plain supple and highly productive skin that allows for a robust animal with great carcass attributes to produce long, soft white wool.
The Advance sheep are well known for their ability to reproduce at very high rates and with their distinctive carcass conformation rewarding commercial clients with their bottom line. This is highlighted in several SA & Victoria's renowned ewe sales, wool auctions and lambs processed over hooks achieving outstanding prices.
The advantages of these wrinkle free, plain bodied sheep are that they have very good fertility & mothering capabilities consequently promoting a low maintenance type, in all climatic conditions.

 The favourable plain breech traits of the Modern Merino allow the breed to rise above the mulesing dilemma & phase it out altogether. (Mulse-free for 15 years and receiving premiums for non-mulesed wool)

RIDGWAY ADVANCE STRIKING THE CORRECT BALANCE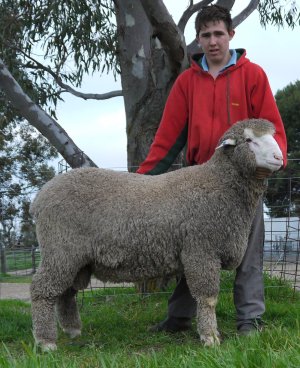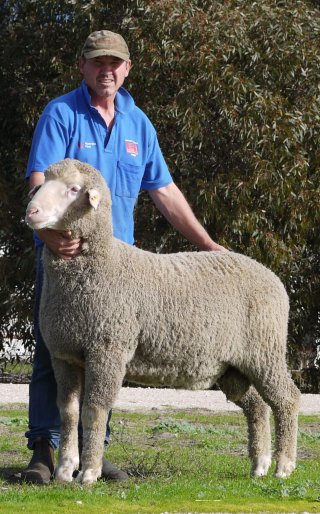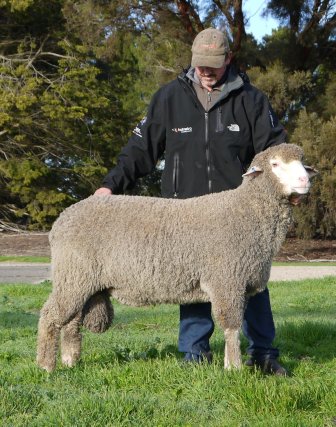 Due to the refining of genetics within the Stud, unchanged breeding strategies and large AI & ET programs the depth of quality in the Ridgway Advance Sheep is exceptional.
"The Ridgway Advance - Bordertown young rams, unsurpassed for sheer numbers exhibiting true elite fibre on great frames and could be named the 'peas in the pod' stud of the state."
Quoted by Bill Walker Classings Cullings "What price the Sheepclasser"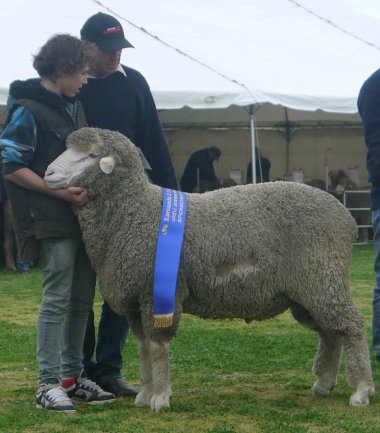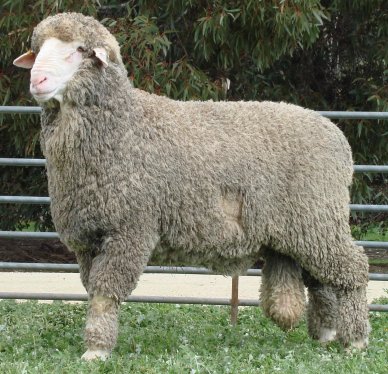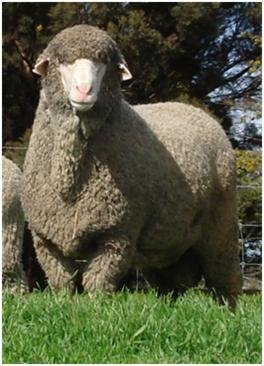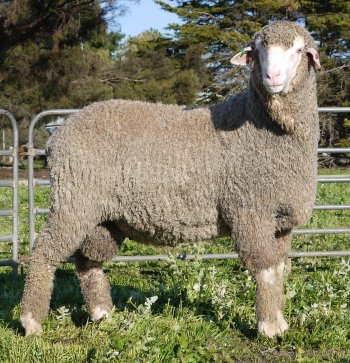 "The quality & depth of the Advance Rams continues to amaze all who view them."

picture of David & Devon Ridgway
taken at 2017 SA Merino Sire Evaluation Trial (In the 2017 SA Merino Sire Evaluation Trial RA performed well against ASBV trait leaders)