Bids Rain Down at Ridgway Advance ram sale

News >>
RIDGWAY Advance Poll Merino stud's annual on-property auction set a blistering pace from the first lot, ensuring a lift of more than $300 in average.
The first 100 rams in the main shed offered by David, Karen and Devon Ridgway on Wednesday 14th August '19, at Bordertown averaged a red hot $3140, driven by bidding from three states.
But in the second shed there were plenty of opportunities where 23 rams made $800 to $1000.
Overall 145 of 168 big framed, heavy cutting rams sold for a $2565 average, with a feature of the sale the consistency of wool types.
Nine less rams cleared than in 2018 with regular station buyers unable to buy due to the drought.
The higher rainfall areas nearly made up for the lack of pastoral buying though, especially western Vic finding plenty of bright, white wools.
Second year buyer Steen Paech, Callington, won many of the bidding wars including the $6800 sale topper at lot 15 which he bought on behalf of Shirley Willison who he sharefarms with.
The 17.5 micron, May 2018 drop, was bred from a ram lamb syndicate of proven sire RA 002.
The 102 kilogram ram had exceptional wool tests including a standard deviation of 2.2, coefficient of variation of 12.6 per cent and comfort factor of 99.7pc. It had an equally impressive carcase scan with an eye muscle depth of 42mm and fat depth of 6mm.
Mr Paech was impressed by the "overall structure and wool type and "We are trying to move down the non-mulesing path," he said
He bought two others at $5400 and $5200 , as well as seven rams for Paech Bros for a $3100 average.
The sale's second highest price of $5800 was paid for lot 2, an 18.1M ET-bred ram.
It sold to new client Anorinda through Landmark Minlaton.
David Ridgway was "very pleased" with the sale result, especially the spirited bidding in the first shed.
He said it was noticeable that buyers were willing to increase their budgets and were chasing "all rounder" rams.
"Holding each of the rams you get a feel of what is in demand," he said.
"Some years it is the big framed ones and a few years ago it was the extreme staple length but this year it was muscle and fat but they also had to be a good wool type and cutter."
He was rapt with the evenness of the offering which he said was the result of 20 years not "chopping and changing" their breeding program.
"We are particularly pleased to be bringing the quality of the bottom up to the top and getting the rams more and more even- when they get that way we believe they will perform that way for our clients too," he said.
Landmark SA studstock manager Gordon Wood, who shared the auctioneering duties with Richard Miller, said it was pleasing to see rams still making $3000 late in the sale, but some rams in the second shed were "undervalued".
'We probably missed a pastoral order or two which reflected in the numbers sold however the average price is up and given the year we have been through it is a great result," he said.
Mr Wood said the Ridgways were "masters" of ensuring the depth of quality right through the sale.
"These guys have been producing really good, productive skins for a long time and in the last decade but definitely the last couple of years there is something really clicking" he said.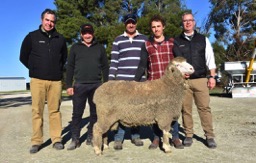 Back