BIDS STRONG AT RIDGWAY ADVANCE

News >>
Sale Report
Top shed: 136 offered 136 sold to a top price of $12,500 to long term clients Paul & Chris from Wentworth. Average $3,070
Second Shed: 40 offered 31 sold to a top price of $2,600 Av. $1335
Overall 176 offered, 167 sold Averaging $2,748
David, Karen & Devon Ridgway would like to sincerely thank everyone for their support.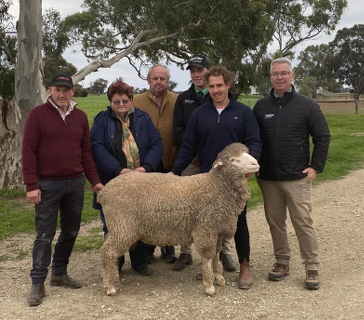 A big crowd attended the Ridgway Advance Poll Merino Ram Sale, on Wednesday 10th August 22 in the Senior area, Bordertown. The car park was full of utes with interstate number plates, some driving up to 1000 km to attend the sale.
There was also a strong buying contingent from the South East and Mallee.
At last year's sale, online bids outnumbered those in the shed due to covid/border restrictions, with 63 rams sold through Auctionsplus, but in stark contrast this year, there were only six active bidders. One of these was Lot 1 bound for WA.
Seven of the first 10 lots were bought by NSW buyers including Lot 4 sale topper.
Paul and Chris McPherson, who have been buying for nearly 20 years, outlasted strong competition to secure the $12,500 ram, weighing in at 111kilograms, 18.4 micron, 2.4 SD & comfort factor of 99.8%, with a 48 mm eye muscle depth.
Paul said 'He had all the features we were looking for - good wool and frame. He was a good allrounder. '
David Ridgway said they were focused on a 'type of sheep' for their commercial clients, rather than breeding a few high priced stud rams.
'When we first started the Ridgway Advance stud we promoted it as the modern merino from a traditional base by freeing the skins up and plainer type but in the last 15 years we have aimed for a balanced merino with meat and wool and high fertility' he said.
Nutrein stud stock auctioneer Gordon Wood said "That is one of those things about these Ridgway Advance sheep, people are discovering them from all over Australia' he said 'They really are suiting those high rainfall areas like Crookwell (NSW) as well as at Broken Hill.
Fellow Nutrien auctioneer Richard Miller said it was pleasing to see new buyers 'stamping their mark' with volume orders. Clearly they are chasing that real modern poll merino - that non mulesed, stylish, long, easy growing staple with plenty of style and character to it and the carcase attributes ' he said.
'If you came to buy 30 rams you could have marked up half the catalogue to suit the same criteria, you can't do that in many places'
Nutrien Bordertown conducted the sale with Jack Guy also auctioneering.
Catherine Miller Stock Journal
Back