JUNIOR RAM TOPS SENIOR SALE

News >>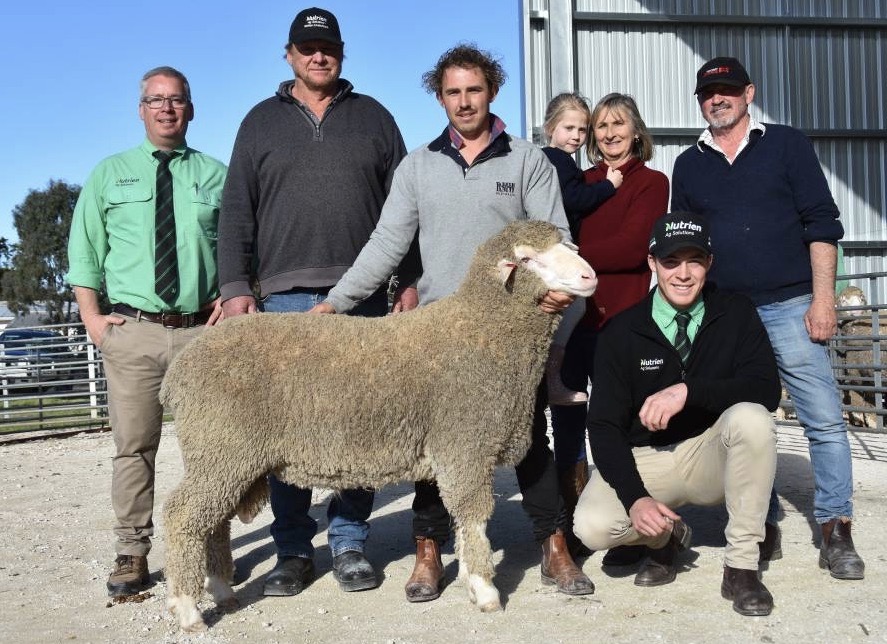 Buyers may have been more cautious with their bidding in the first row, with few opening bids of $2000 or more, but the sale soon found its momentum as bids came thick and fast.
Overall David and Karen Ridgway and their son Devon sold 167 of 182 rams for a $2515 average. This was back $235 on 2022's sale although two more rams sold.
Long-time clients Paul and Chris McPherson, Allanvale Wentworth NSW who paid $12,500 on-property record at last year's sale, had to come up with less than half this money for lot 4, a May drop ram which weighed 116 kilograms with long stapled white wool.
The $6,000 ram - tag number 0633 - had the MerinoSelect figures to match with a yearling weight of 9.37 and yearling clean fleece weight of 25.87. Both of these traits ranked in the top 20 percent of 2022 drop rams.
The price set the pace for the sale until the first ram of spring drops went under the hammer at Lot 49, making $10,000.
Bids flew for the 17.3 micron ram, RA1275 by the same sire as the Lot 4 Ram.
Commercial breeders Glen and Tracy Farr, Loxton, staved off a Mallee Stud to secure the sale topper, which impressed especially for its eye muscle depth of 45mm and 7mm fat depth.
The 94kg ram's other wool tests included a standard deviation of 2.9, coefficient of variation of 17.0 and comfort factorof 99.9%.
"He sttod out as a great all-round sheep we are looking to put some more eye muscle and he is good in that way and he is well grown for a spring drop" Mr Farr said.
The Farrs breed rams for their selfreplacing Merino flock and their surplus ewes are often among the high prices at the Lameroo Sale.
Mr Ridgway said the $10,000 ram had 'plenty of sire appeal' and had been considered for the Classings team but they also wanted to have some top end rams in their on-property sale.
"He had all the attributes any stud looks in a ram, he has a very strong head and was really balanced and quite growthy" he said.
Another Spring drop late in the catalogue - Lot 120 - caught the eye of Kevin and Jack Beaton, Kevlyn Poll Merinos, Conjar, Vic.
The ram had excellent wool tests with a 17.2 micron, 2.6SD, 15.2 CV and 99.9CF.
"We bought cast for age ewes in 2017 and they did well for us so we wanted to add some more Ridgway Advance genetics into our flock" Kevin said.
Several interstate buyers who had bought from Ridgway Advancein recent years were back with larger orders.
Mr Ridgway was pleased with the results and to see their long-time clients continue to have good results with their genetics. He said they would have close to a total clearance if it wasnt for an AuctiosPlus glitch.

"Buyers were a little bit standoffish at the start because of the climate of the commercial scene and pulled their budgets back but in the end it was quite similar all the way through" he said.
"It is what our commercial blokes want - not a handfull of good rams but an even spread so they can buy them through the sale' he said.
He said their philosophy was to use proven genetics to ensure the rams bred true to type consistently rather than a big variation in the progeny.
Nutrien SA studstock manager Gordon Wood said the larger new shed that the sale was held in ensured momentum continued right until the last ram, which still made $2600.
Previously we have had one shed and moved into another, there was a perception that the better rams were all are in that front shed" he said.

Mr Wood said the rams still represented great value at a $2500 average.
"Their motto is perfectly balanced merinos and that is what you get here, a balance of carcase and fibre and now with ASBV's in the mix, it is a real plus.
"I love the fact that there is no straw in the pens, the structure is good enough, that they have nothing to hide."

Nutrien Bordertown conducted the sale with Gordon Wood, Richard Miller and Jack Guy sharing the auctioneering duties.
written by Catherine Miller Stock Journal
Back