Online presence boosts Ridgway Advance Poll Merino sale with $2472 average

News >>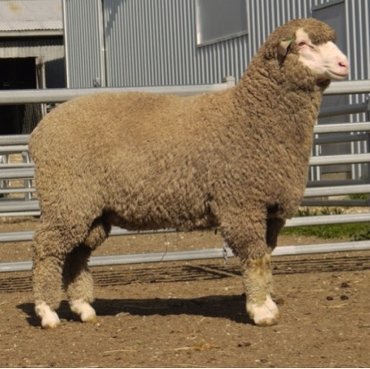 BUYERS from four states bid up at Ridgway Advance Poll Merinos' on-property ram sale on Wednesday last week at Senior, near Bordertown where there was nearly as much action online as in the sale shed.
Nearly 350 bids came in from AuctionsPlus during the sale as many of the stud's wide geographical spread of clients were forced to bid online due to COVID-19 restrictions.
Twenty eight rams sold online included the $12,300 sale topper which set a new on-property record for stud principals David, Karen and Devon Ridgway.

As heavy rain fell on the roof, Nutrien stud stock manager and auctioneer Gordon Wood took $100 bids from $10,000 to the final knockdown price of $12,300 for the lot 21 ram, adding to the moment.
The successful buyer of the stand-out, spring 2019-drop was Tubbo Station from NSW's Riverina who had been impressed with the videos they had seen of the 17.8 micron ram.
R457's other wool tests included a standard deviation of 2.7, coefficient of variation of 15 per cent and perfect 100pc comfort factor.
David said the ram's appeal was its exceptional carcase and wool figures but it epitomised what they were trying to achieve with the ram visually matching its scan data and wool tests.
"A 10 month old ram weighing 102 kilograms with 44 mm eye muscle depth is something you just don't see often and you can see it (the figures) in the ram too," he said.
"He is a RA082 son the same breeding as our ram that topped the Sire Evaluation Trial a few years ago.
Underbidder on the sale topper was another long-time supporter, Senior Park, Senior, who secured lot 3 for $7600.

Lot 5- the sale's second highest price of $8200 was also knocked down to AuctionsPlus with Nutrien's Naracoorte's Nick Heffernan relaying the bids throughout the sale.
The 18.9M, RA090 son weighed 116kg with a 43mmEMD.
In the first shed the Ridgways sold 116 of 124 rams for an impressive $2633 average.
Demand did taper off as the sale moved from the main shed to the ecoshelter with no more bids from AuctionsPlus and an absence of station orders.
Thirteen of these 44 rams sold averaged $1000. Of these nine sold at the $800 base price.
Three rams sold to Carieena Stud Sheep, Qld to a $6200 high , but the remaining rams were snapped up by commercial clients, largely long-time supporters of Ridgway Advance's breeding program.
GJ&KM Turner, NSW, led the volume buyer list with 12 rams to $3200, averaging $1883.

C&A Woidt, Cookes Plains, secured 10 rams to $2400, averaging $1710.
Mr Wood said it was one of the strongest sale he had seen at Ridgway Advance for the first 100 rams, despite the smaller crowd due to border restrictions.
"Whether you want a $10,000 ram or a $1000 ram they were here," he said.
He praised the depth of the offering saying the rams met the stud's slogan of "perfectly balanced Merinos".
"They have got that balance between wool production, carcase and fast growth spot on," he said.
"They are real square bodied sheep with a heap of wool on them and as you walk through they are exceptional staple length rams."
Mr Wood said it was good to see the faith and trust buyers who were unable to be at the sale had shown in the stud.

"Quite a few have been buying from David, Karen and Devon for a long time and they know the type of sheep that their clients want"
Ridgway Advance will offer 25 rams at next month's Classings Classic sale at Murray Bridge and 3 in the Adelaide Ram Sale
Nutrien Ag Solutions Bordertown conducted the sale. written by Catherine Miller Stock Journal
Back