Ridgway Advance Quality "Complete Poll Merino"

News >>
Ridgway Advance stud's strong 2018 annual on property sale was testament to the depth of the offering, according to Landmark auctioneers Gordon Wood and Richard Miller

RETURN buyers from three states bid with confidence at Ridgway Advance Poll Merino stud's annual on-property sale on Wednesday last week at Bordertown, ensuring the average lifted by nearly $250.
Amid a surging wool market enjoying triple digit gains for the week and record meat prices, David and Karen Ridgway and their son Devon, sold 154 of their 160 rams for an impressive $2251 average.
The average was even more impressive considering no dizzy top prices were reached.
The $5200 sale topper came relatively late in the main shed at Lot 62, highlighting the depth of quality.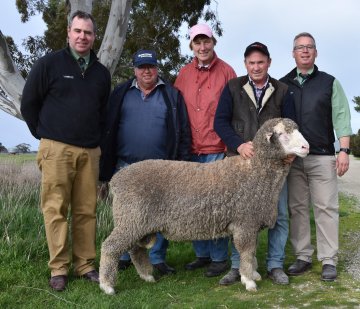 The 18.4 micron ram – a son of RA082 – was bought by Geoff and Sue Zacher, Coonalpyn.
They were impressed by the "stylish, free growing wool" and outstanding carcase traits, including a 46 millimetre eye muscle depth and 9mm fat depth.
John Lamb Pastoral, NSW, bought four rams in the top end for a $3900 average, including the $4800 second highest priced ram in Lot 9.
Two SA studs operated, Ramsgate stud at Tintinara which paid $4600 and Ridgway Advance's neighbours Kiandra stud, which secured a RA022 son with 100pc comfort factor for $3000.
Several big orders helped produce the 96pc clearance and ensure the first 100 rams averaged $2765.
Momentum continued into the ecoshelter where rams in the latter part of the catalogue still made up to $2000.
Jim Rathjen, Birdwood, bought 14 rams for a $2850 average, while GJ Hulm, Murrulebale, NSW, bought 11 rams for a $1836 average.
Stud principal David Ridgway was rapt with the result.
"Our long-time clients were so strong and are backing our breeding program which makes us feel really comfortable going forward," Mr Ridgway said.
"We are fortunate down here that we are not feeling the effects of the drought but we do know some of our clients in NSW, Vic and in the Mallee are doing it tough."
He was also thrilled with the performance of Ridgway Advance 150103, which has topped the SA Merino Sire Evaluation trial for body weight and also produced the most progeny classed as tops.
"We are looking forward to shearing and expecting looking at the sheep they will cut at least a good average fleece," he said.
"We have always strived for our sheep not to be too extreme in any traits but breeding balanced Merino with the most wool and meat, as well as fertility."
Landmark conducted the sale with Gordon Wood and Richard Miller sharing the auctioneering duties.
BREAKOUT STORY
Ridgway Advance stud's strong sale was testament to the depth of the offering,according to Landmark auctioneers Gordon Wood and Richard Miller.
"The skins and wools have been really good here for some time and now the carcases are getting a bit bigger and we are getting some real width in the hindquarter which is a real positive for the Merino industry," Mr Wood said.
Mr Miller said the carcase merit seen in the rams was matched by some outstanding raw scans with eye muscle depths up to 47 millimetres, comparable to many terminal breed sires.
The well-nourished wools ensured they were offering a "complete Merino."
"The repeat buyers are having the results themselves and happy to pass on the 15 to 20 per cent increases on their wool cheques and their sheep and lamb prices," Mr Miller said.
Back